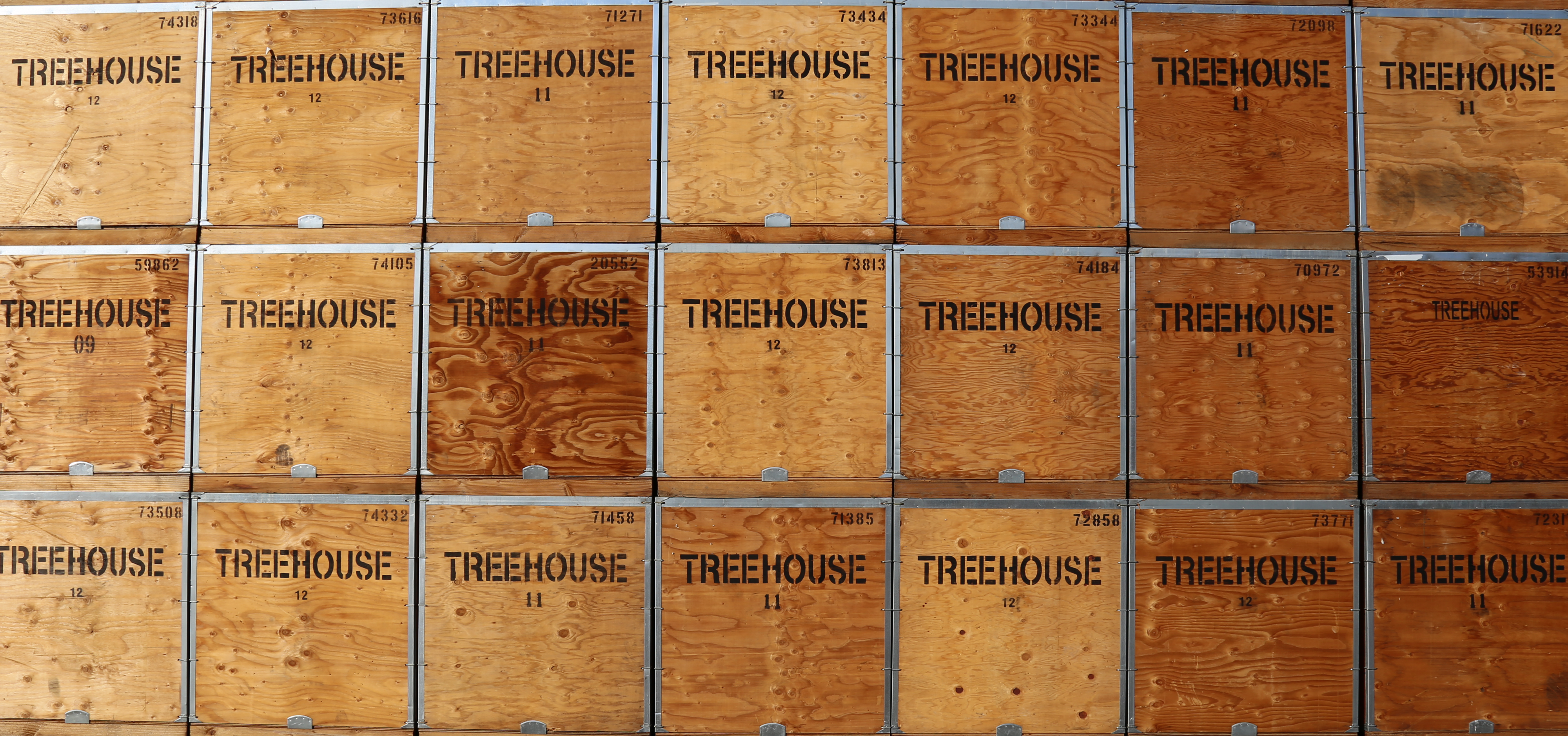 California shipped 174.0 million lbs in June, up 15.4% compared to shipments of 150.8 million lbs in June last year. Strong export shipments accounted for all of the increase, while domestic shipments of 53.4 million lbs were down slightly (1.7%) from last June. As expected, China (up 77%), India (up 31%) and Spain (up 75%) pulled strongly. Significant help was also seen from Canada, Germany and Thailand while Middle Eastern exports were 10.6 million lbs shy (down 49%) of June totals a year ago.
End June commitments were reported at 263.8 million lbs, little changed from last month and about the same level as a year ago. New sales in June can be calculated at a muted 76.1 million lbs reflecting a quiet market ahead of the Objective forecast.
Last week the Objective forecast of 2050 million lbs was welcomed by California sellers, while buyers who had waited in anticipation of a larger number (we would put overall expectations at around 2100 million lbs) resigned themselves to the new reality and pent-up demand was seen over the past several days, particularly for early inshell shipments to India and China.
Prices prior to the Objective had eroded by about 20 to 40 cents per lb (depending on the item) since our market report a month ago. Standards which were sitting at $2.50 dropped to close to $2.10 per lb. This was a little surprising in light of the strong May shipments and reflected concern for a large 2016 crop, while further complicated by turbulent currencies following Brexit.
Post forecast prices have rebounded by about 15 to 20 cents per lb. Standards for both current and new crop are now seen near $2.30 per lb, while sized Californias are in the $2.30 to $2.40 range. Nonpareil kernels have surprisingly been less responsive, with bids for new crop NPX 23/25 still clustering around $3.05 per lb while offers seen nearer to $3.15 per lb. Nonpareil inshell bounced from sub $2.10 levels to actively traded $2.25 per lb for August and September positions. Manufactured levels, sticky as usual, had perhaps slipped 10 cents per lb to $3.25 per lb, but have firmed again to the $3.30 to $3.35 range.
Year to date shipments now total 1672.7 million lbs, down 1.0% versus a year ago. With one shipping month now left in the crop year California looks poised to carry about 420 million lbs into the 2016 season. From what we can feel, 420 million lbs is not enough to fully ensure availability of all varieties and sizes.
Adjusting for the traditional 2% loss, the 2050 million lb forecast suggests sellable tonnage of just over 2000 million lbs. In our view California will be comfortable to carry out an additional 50 million lbs or so into the 2017 season – inferring a comfortable shipment target of about 1950 million lbs for the upcoming season. To put this in perspective, this sets a target of about 8% over last year and very similar to the record 2013 season when California shipped 1937 million lbs.
To put the 2013 season pricing in perspective see the chart below showing Standard 5% FAS California pricing over the past several seasons: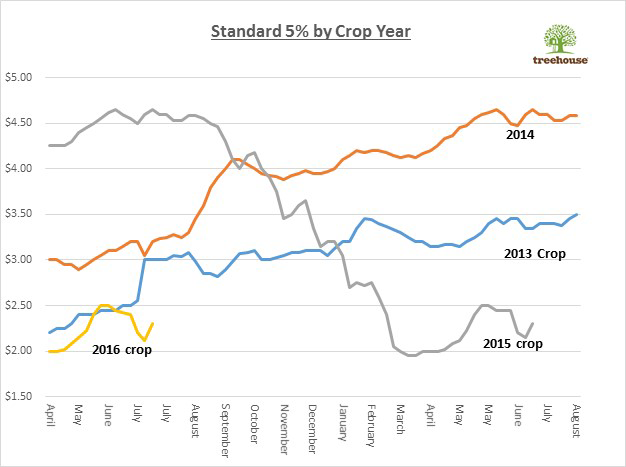 In short, supply appears to be manageable at current price levels. Early new crop shipments to India and China will be strong which should keep sellers confident. Meanwhile early harvest results and receipts will be keenly watched, but unlikely to tell us anything certain until several months from now. Almonds continue to be the value nut at these levels. We anticipate good demand and a stable to firm market under the current fundamental outlook.
Best regards
Jonathan Meyer
Treehouse California Almonds, LLC
Ph 559 757 5020
www.treehousealmonds.com