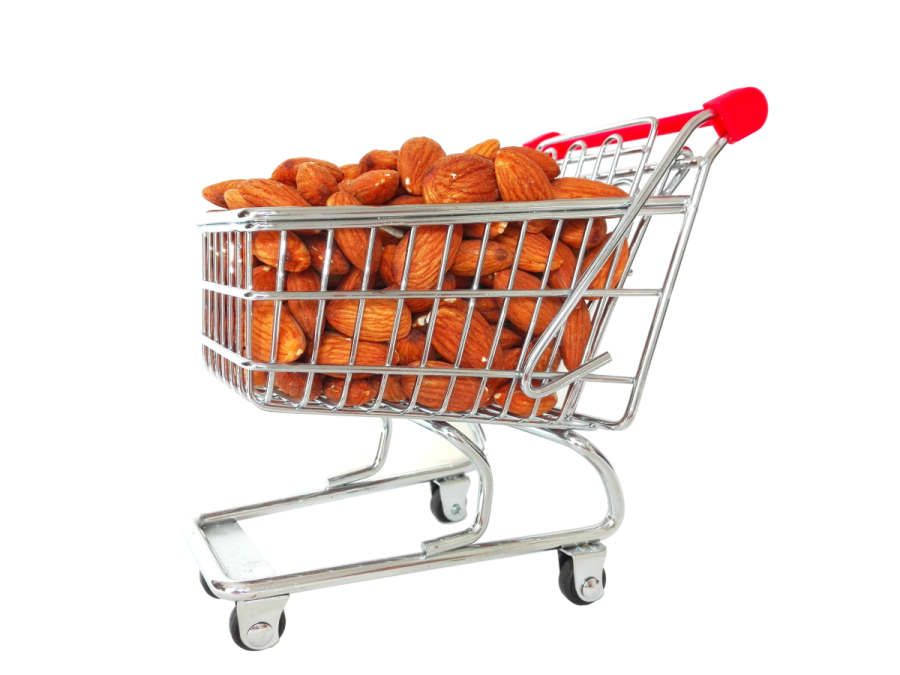 California shippers had been expected to be busy in June, so while a figure of 177.1 million lbs may not come as a complete surprise, it certainly does not disappoint. This sets a new record for June and clears last year's record hurdle of 174.0 million lbs. Remarkable domestic shipments (65.2 million versus 53.4 million) were the main driver. Most other destinations were slightly off last June numbers. Western Europe dropped 3.4 million to 51.8 million lbs. Middle East shipment declined by 0.4 million to 10.5 million lbs. Chinese shipments shrank 4.8 million lbs to 8.6 million. Inshell shipments, as anticipated, were down versus last June (13.7 million versus 17.2 million). India, however, managed to attract the bulk (9.7 million lbs) of the dwindling inshell supply and actually increased June shipments by 1.5 million lbs versus a year ago.
With only one month left in the shipping season, season-to-date shipments at 1,946.8 million lbs are now 16.4% ahead of season's pace. July shipments are also expected to be strong and the carry-out into the 2017 season will likely be around 400 million lbs, slightly down from the carry-in of 412 million lbs a year ago.
Commitments for current (2016) crop are reported at 294.3 million lbs, up 30.4 million lbs compared to the end June commitments a year ago. However, the 89.8 million lb drop in commitments from the end of May suggest muted new sales of 87.2 million in June. New crop commitments are reported at 287.0 million lbs, increasing by 77.7 million lbs of new sales in the past month. While comparable figures are not available for new crop sales a year ago, our sense is that this is a relatively low level of new crop commitments for this time of year.
On the supply side, 2016 crop receipts were about unchanged at 2,135.4 million lbs. Last week the NASS Objective forecast put the 2017 crop at 2,250 million lbs. Market anticipation had been a little higher than this number.
Prices over the past month have been little changed. Prior to the Objective forecast both new and current crop Standard 5% traded in a tight range around $2.20 per lb, while sized Californias traded between $2.25 and $2.35 per lb. Nonpareil pricing continued at a strong premium with NPX 23/25 seen close to $3.15 per lb. Scarce current crop inshell was offered between $2.45 and $2.50 per lb, while new crop ideas were closer to $2.20 per lb. Prices for blanched sliced and slivered clustered around $2.95 per lb, while BWB was seen between $2.60 and $2.70 depending on quality expectations.
The Objective forecast was met with the usual buyer reactions ranging from wary disbelief, to concern that a bumper crop might not be in the making. Indeed we have seen the actual crop result about 90 million lbs higher than the Objective forecast over the past two years. Nevertheless there is a general consensus that this is the best guide we have for now and we have seen prices for most grades and sizes increase by about 3 to 5 cents after the report along with a notable increase in new crop inquiries.
We anticipate that new crop interest will continue grow over the next weeks. With the Objective behind us there is not much on the foreseeable horizon that might give buyers cause for further delay. Shipments for July will likely be strong. August shipments may struggle versus last year, but only because the 2017 crop is going to be about 2 weeks later than last year. Our orchards, in the usually earlier south end of the valley, are looking to start delivering in earnest to the huller in the 3rd week of August. August new crop shipments will likely be light, but demand is going to be high as India and Chinese channels are relatively empty and waiting.
Momentum in demand and shipments is likely not going to slow at these prices. If indeed the crop is only 2250 million lbs there is only room to grow shipments by 5% or so. We are currently at 16.4% growth versus a year ago. Mature markets are showing respectable growth (USA up 14%, Western Europe up 9%). Developing market are primed to grow by double digits as almonds remain the value tree nut in the mix. Over the next couple months we anticipate a firm pricing environment as we transition into the 2017 season. A reliable picture of early 2017 harvest yields will likely not come into focus until September. Until then, it looks more plausible that sellers will control the narrative.
Regards,
Jonathan Meyer
CEO
Treehouse California Almonds, LLC.
Sales@treehousealmonds.com