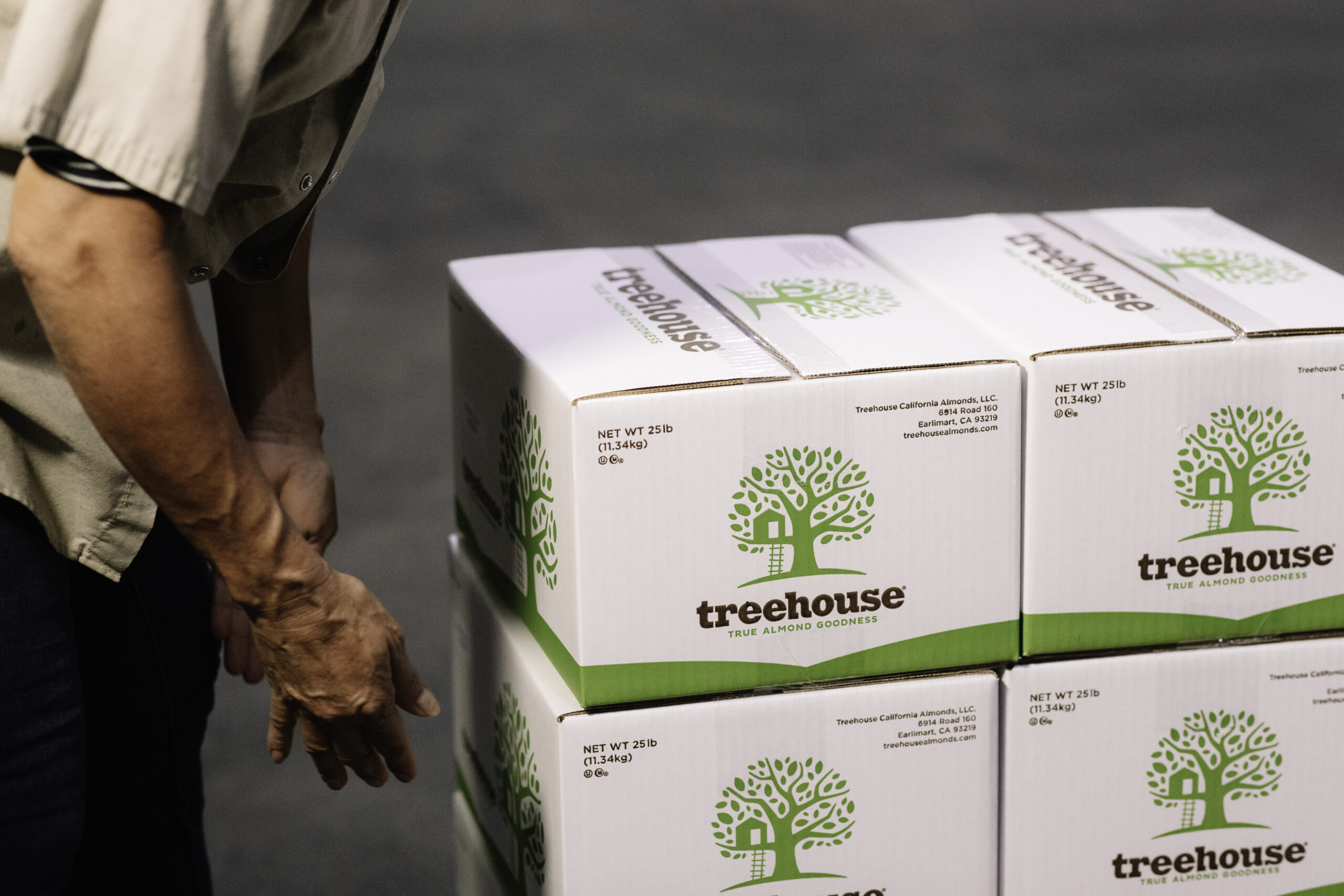 California almond handlers shipped an unprecedented 261.0 million lbs in September, up 33% from shipments of 196.2 million lbs in September last year and very close to the all-time record monthly shipment of 265.5 million lbs notched in October last year. Export shipments (197.4 million lbs, up 39%) accounted for most of the increase, while domestic shipments (63.6 million lbs, up 17%) also contributed well.
Export shipments were powered by extremely strong inshell shipments (79.6 million lbs versus 50.9 million a year ago), with India taking the lion's share (63.2 million lbs versus 23.5 million lbs a year ago). Other notable September monthly increases to export destinations include; South Korea (6.7 million, up 56%), Vietnam (2.9 million, up 441%), Western Europe (46.2 million, up 17%) and the Middle East (24.7 million lbs, up 9%) with both Turkey and Dubai pulling well. Chinese September shipments were off by 4.0 million lbs, or 15% at 21.9 million lbs. Strong shipments to Vietnam soften some of this shortfall and give hope that Chinese consumers are indeed enjoying well-travelled almonds at about the same rate as last season.
With two months of shipments now under the belt of the 2020 season, California is off to a great start with the total of 454 million lbs a solid 32% or 110 million lbs ahead of the first two months a year ago. Again we point to India, which accounts for 104 million lbs of the total, up 60 million lbs for August and September combined. This is both a celebration and a concern. India has now taken 41% of its total 2019 season shipments. They cannot be expected to maintain the 139% pace, leaving California looking to other destinations to maintain momentum later in the season.
While strong September shipments were generally expected, the commitment number was anticipated to be more vulnerable as market behavior in September appeared to suggest buyers chasing sellers for the first half and then vice versa in the second half of the month. New September sales, however, were surprisingly strong at 298 million lbs, lifting commitments to 1093 million lbs, 428 million lbs ahead of commitment of 665 million lbs at the end of September a year ago.
While impressive, one might also make the point that everything feels a little earlier than usual this season. Buyers came in early and strong. Strong sales, helped by a sufficient carry-out for the first time in 3 seasons, turned into early and strong shipments. The question is now whether the momentum can be maintained. The answer for the near-term appears to be positive. Commitments and shipments account for 46% of the anticipated 3 billion lb crop (less 2% loss), on the upper end of the typical range for this juncture (we have seen this number range from 39.6% to 48.8% over the past 10 years). We anticipate this bodes well for fourth quarter (Oct-Dec) shipments.
Since we have mentioned the crop at 3 billion lbs, no longer such a scary number and the market appears to be getting accustomed to its face, total crop receipts at 1,052 million lbs do not seem to suggest a change in expectation. This is 213 million lbs ahead of last year at the end of September and shows very busy hullers pushing out a record monthly total of 780 million lbs (the previous record set at 751 million lbs in October last year).
So now to what this all means for prices. We really don't know yet. Since last position report we saw the market retrace from Standard 5's being traded at $2.00 and a little above to most recently in the $1.80 to $1.85 level. The prevailing narrative is that call pool sellers came out following the strong August number, and buyers backed away after booking their needs in the run-up to the number. The inshell market appeared to lead the way, with Indian buying coming in strongly in August and going quiet in the second half of the September and only recently reemerging. Nonpareil inshell, which had peaked in the high $1.60's traded in the low $1.50's this past week.
Our sense is that today's numbers, particularly the new sales, will encourage sellers, and it should. The comfortable sold position and momentum in shipments show that the big crop is manageable. The conventional wisdom is that the 2021 crop (yes this is early to mention, but it is on the market's collective mind) will pull back from 2020 levels, making a larger carry-over into next season more palatable. California needs to increase shipments by 350 to 400 million lbs to sail comfortably into that setting sun. It is already 110 million lbs ahead after only two months, and the course appears set with strong sales 285 million lbs ahead. That said, there is a still a long way to sail in both time and volume, and we are in an unpredictable economic waters. We anticipate momentum will swing like a pendulum within price ranges already marked this season until we learn more about this crop. For sure though, we come away from this report further convinced by the strength and resilience of demand.
Jonathan Meyer
Treehouse California Almonds, LLC.
(559) 757-5020
www.treehousealmonds.com