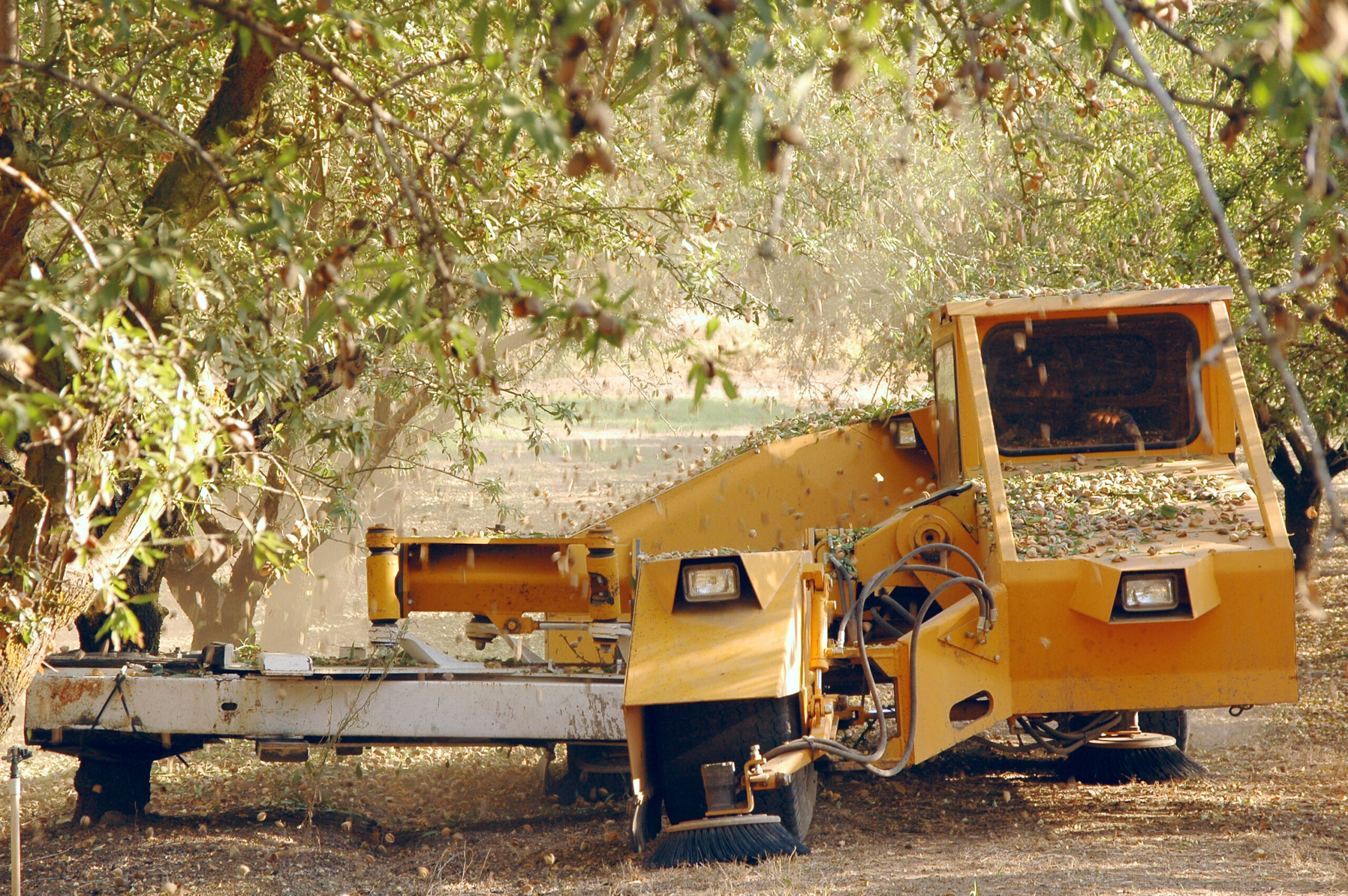 California handlers shipped 201.6 million lbs of almonds in September, up sharply (40%) from shipments of 143.0 million lbs a year ago. All major market pulled strongly. Domestic shipments up 15%, China up 82%, India up 40%, Middle East imports bolstered by Turkey nearly tripled. Western Europe, after a very strong August, was up a moderate 5% versus last September. Shipments for the first two months of the season are now running 38% percent ahead of last year's pace.
Commitments are no less emphatic. At 640 million lbs, end September commitments are 199 million lbs ahead of last year. This infers new sales in September at a record 359 million lbs. Looking back, the next closest monthly sales tally was 276 million lbs in October 2014. Total committed and shipped now account for 50.3 % of the forecasted 2050 million lbs crop. We will have to go back to 2009 and 2010 to find a similarly sold position this early in the season.
Harvest has moved quickly along, with the last variety Fritz coming out of the orchards about week or two earlier than last year. September receipts at 631 million lbs bring the total for the season to 990 million lbs so far, ahead of last year by just under 70 million lbs. Harvest weather has been dry and favorable. Insect damage is lower than a year ago. Yields in the south are running higher than a last year, while the positive comparison dissipates as you move north. Nonpareils are sizing about a size bigger than last year, while buttes and padres are sizing surprisingly small. At this stage it appears that view of the crop between 2050 and 2100 million lbs is still reasonable.
Since last month's position report similarly showing both strong shipments and sales, prices have increased about 30 cents per lb. In the week after the August position report we saw a flurry of activity as buyers who had not covered gave up hope of prices moving lower in the next month or two. After covering an initial tidal wave of demand, sellers instinctively pulled back and over the past two weeks prices have pushed higher in what feels like thin trading. Standards which had been pretty stable at $2.20 per lb prior to the report have moved to over $2.50 per lb. Nonpareil 27/30 have moved to around $3.10 per lb, while 23/25's were most recently seen over $3.20 per lb. Manufactured pricing, showing their usual stickiness have struggled to keep pace, increasing about 20 cents per lb to around $3.35 per lb for blanched sliced and sliver.
Prices rise as the market attempts to ration supply. If the crop results near 2050 million lbs there are only enough almonds to increase shipments by about 10% versus last season. Until the crop proves higher than this a firming market is rational in the face of shipments that over the past 6 months are running over 50% higher than Apr – Sep shipments a year ago. Indeed, since April California has shipped 1029 million lbs. Now we know that this is cherry picking the comparison, much of it was clearing 2015 crop and also perhaps refilling pipelines, but the point is that low prices have spurred shipments to levels that are not sustainable.
Strong shipments and strong commitments out of this report will further bolster seller confidence. The commitment number ensures strong shipments in October and November and puts the industry in a commanding position as we all try to guess the final crop number. Sellers will have to wait until December in the hope that the crop is bigger than expected and/or winter weather is favorable for the 2017 outlook. In the meantime we see little opportunity for weakness and likely can expect further firming.
Best regards
Jonathan Meyer
Treehouse California Almonds, LLC